Focusing on what counts is mental work - your brain has to filter out the noise.
What is all this productivity-eroding visual noise in OF2 ? Where is it coming from ?
From the fallacy of visual "allusion" – the understandable but incorrect idea that distraction is less distracting if it reminds us of something else.
Large and visually distracting finger-sized checkboxes, compacted paragraphs which make field and record boundaries much noisier and much harder to read, high-contrast hieroglyphic icons - open folders, sphinxes, snails, and norwegian flags ? Menu slabs competing for display space ? These are all forms of visual noise imposed on OF2 on the grounds of "allusion" to the iOS version.
"Allusion noise" even leaked into the otherwise excellent Omni app icon project, though the leak was luckily fixed for the iOS versions, which were spared the redundant high-contrast edges, black fills and shadows which were were added as allusions to twisted sheets in earlier icon designs.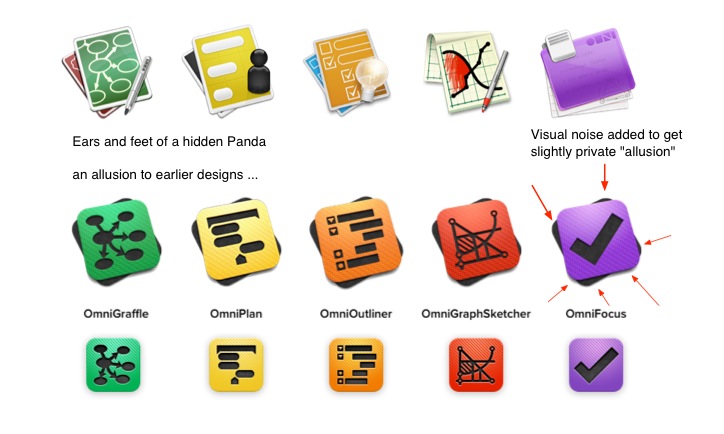 iOS7 is now making a bonfire of allusion logic - the idea that visual noise can be allowed to get in our way if it "reminds us" of something else. Torn sheets, library bookshelf splinters, faux leather diaries etc. etc. Luckily, the bonfire of allusion will then move on to OSX 10.9. Will OF2 be ready for that ?
If Omni is serious about productivity, and understands that visual noise distracts, then there's room for an early bonfire here as well. Pruning out all those distracting and unproductively high-contrast allusions would quickly let us see much more, and with much less effort, in OF2.
Allusions are not a good substitute for a coherent graphic approach. They're visually distracting, and they're moving out of fashion, too.
--