Why won't this site work at all in OnmiWeb? This is a very crucial site for me to access, and whenever I try to view it in OmniWeb, no matter my location (i.e., it's not an issue with my internet connection), I get the error message shown in the image below)...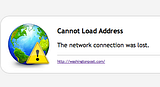 Can anyone help with this or explain the problem?
Thanks in advance for your help!
With peace,
Henry