I love the idea, it is kind of similar to LB's scheme of importance.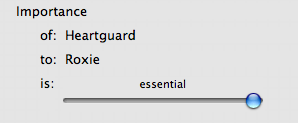 Having experienced this feature for the last few years, I know I'd like to have a more graduated scale. I had asked for adding just 10 little marks below the slider. Some kind of visual clue...
On the same note I prefer the little squares on the screen when adjusting the volume on a mac over the drop down slider from the menubar.