Applies to:
Product: OmniGrafflePro-5.3
Tag: OmniGraffle/5.3.6/GM-v138.33
Create a fresh OmniGraffle document,
and create a single shape in it, reading, for example, "The CEO is a genius"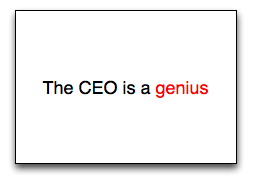 Now run the following script (perhaps on an unsuspecting colleague's machine ?)
Code:
tell application id "OGfl"
	tell canvas of front window
		set last word of text of first shape to "fool"
	end tell
end tell
No change ...
The screen
still looks supportive of the CEO - you can start your presentation with confidence ...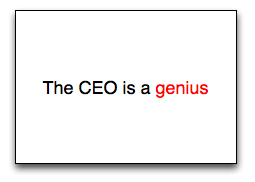 View > Start Presentation
Horror ! The screen was deceiving you ...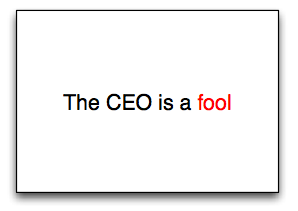 If you now end the presentation, and experiment with zoom levels, you will find that the original zoom level still sings the praises of the CEO, while others levels of zoom are more sceptical ...
Moral ... the OmniGraffle screen can
not
be relied on to display the real state of your data ...
--
---
Last edited by RobTrew; 2012-02-09 at

05:11 AM

..