OmniFocus for iPhone v1.11 updates Forecast mode: Never spread yourself too thin. Enable Calendar integration to see your hard landscape events alongside your overdue and due soon OmniFocus actions. Use the View options menu to show your items with a start date. Reschedule your projects and actions—with just a tap or two—to keep your days balanced.
This update also includes home screen customization: Reorder items and add frequently used perspectives directly to the home screen.
[NOTE: If you're reading this within a few hours of my original post, your local App Store might not have the update yet. If that happens, just wait an hour or so and then try again: it will be there soon!]
We love hearing from you! You can reach us by tapping Send Feedback on the Settings screen, sending email to
omnifocus-iphone@omnigroup.com
, tweeting to
@omnifocus
, or calling 1-800-315-OMNI or +1 206-523-4152.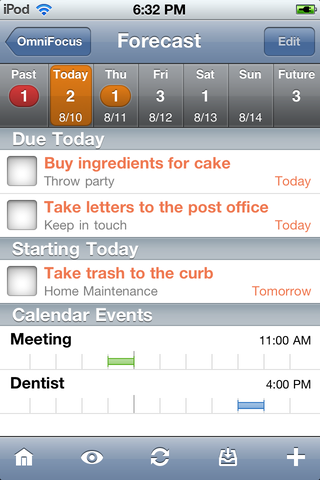 Forecast
Forecast mode now integrates Calendar Events. To modify what you see in the list or to adjust the time shown for the Calendar Events use the View button in the toolbar. (This feature requires iOS 4.0 or later).
Forecast mode now includes an additional section for viewing items starting on the days of the upcoming week. Use the View options menu to hide or show this section.
Fixed a bug where in certain situations the Home button returned you to a blank screen if OmniFocus was launched into Forecast mode via a Due Alert.
User Interface
Items on the home screen can now be reordered using the reorder button, located next to the Home button.
Frequently used perspectives can be added directly to the home screen. To add a perspective to the home screen, tap the Perspectives row. Then, tap Edit. Then tap the star to the right of the perspective you'd like to add.
The built-in perspective icons have been updated.
Sync
When syncing with the Omni Sync Server or MobileMe, the sync login alert no longer prompts you for your username.
When syncing to OmniFocus for Mac via Wi-Fi, the Mac's name now appears in the login alert.