OG 5 Pro currently lacks the option to give a shape an inner shadow, to create a recessed cut-out effect.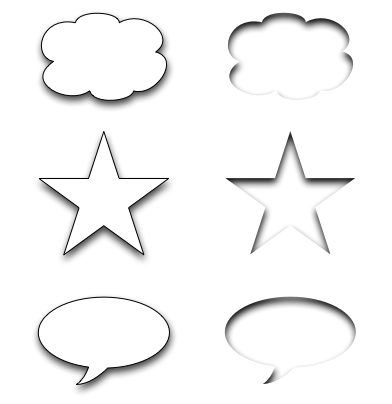 If inner shadows would be useful to you, the best thing is to send a request through
Help > Send Feedback
in the OG menu.
In the meanwhile, the example above was created by an OG 5 Pro script (below).
Select one or more shapes, and run the script. When the script has finished running, move the original shape(s) to reveal the cut-out(s) below.
NB the script creates a framing mask to hide the external shadow of a subtracted cut-out. It may be helpful to group the mask with the cut-out.
Code:
-- A WORK-AROUND TO COMPENSATE FOR THE LACK OF "INTERNAL" SHADOW (FOR A RECESSED EFFECT) IN OG5

-- MAKE CUT-OUT COPIES (BENEATH THE SELECTED SHAPE(S)) 
-- WITH INTERNAL SHADOWS, AND A FRAME WHICH MASKS THEIR EXTERNAL SHADOWS

-- WHEN THE SCRIPT HAS RUN, MOVE THE ORIGINAL SHAPE TO REVEAL THE CUT-OUT HOLE BENEATH IT

-- USAGE: SELECT ONE OR MORE SHAPES AND RUN THE SCRIPT

property pTitle : "Internal Shadow"
property pVer : ".002"

property nMargin : 10
property plstShadowColor : {0, 0, 0}
property prShadowFuzz : 8.0
property plstShadowVector : {3.0, 3.0}

property pblnMaskStroke : false


tell application id "OGfl"
	set oWin to front window
	tell oWin
		-- GET THE CURRENT SELECTION AND READ ITS SHADOW PROPERTIES
		set lstSeln to selection
		set oCanvas to its canvas
		repeat with oShape in lstSeln
			--set refGraphics to a reference to graphics of its canvas
			tell oShape
				set blnShadow to draws shadow
				if blnShadow then set {plstShadowColor, prShadowFuzz, plstShadowVector} to ¬
					{shadow color, shadow fuzziness, shadow vector}
				set {{rXShape, rYShape}, {rWShape, rHShape}} to {origin, size}
				
				-- MAKE A COPY OF THE ORIGINAL SHAPE, LEAVING IT IN PLACE
				tell oCanvas to duplicate (contents of oShape) to end of graphics
			end tell
			
			-- CREATE THE CUTOUT SHAPE AND GIVE IT THE SAME SHADOW PROPERTIES AS THE SELECTED SHAPE
			-- (or fall back to a set of default properties, if the selection has no shadow
			set {rWCutout, rHCutout} to {rWShape + nMargin, rHShape + nMargin}
			set nHalf to nMargin / 2
			set {rXCutout, rYCutout} to {rXShape - nHalf, rYShape - nHalf}
			
			tell oCanvas
				set refGraphics to (a reference to graphics)
				set oCutout to make new shape with properties ¬
					{origin:{rXCutout, rYCutout}, size:{rWCutout, rHCutout}, shadow color:plstShadowColor, shadow fuzziness:prShadowFuzz, shadow vector:plstShadowVector, draws shadow:true, draws stroke:pblnMaskStroke} ¬
						at end of refGraphics
			end tell
			set selection of oWin to {oShape, oCutout}
			tell application id "OGfl" to activate
			tell application id "sevs" to click (my GetMenuItem("OGfl", {"Edit", "Shapes", "Subtract Shapes"}))
			
			-- PREPARE THE MASK, TO HIDE THE OUTER SHADOW OF THE SUBTRACTED SHAPE
			set {rXShadow, rYShadow} to plstShadowVector
			set rShadowMask to prShadowFuzz * 1.2
			set {rXShadow, rYShadow} to {rXShadow + (rShadowMask * 2) + 2, rYShadow + (rShadowMask * 2) + 2}
			set {rWMask, rHMask} to {rWCutout + rXShadow, rHCutout + rYShadow}
			set {rXMask, rYMask} to {rXCutout - (rXShadow / 2), rYCutout - (rYShadow / 2)}
			set oMask to make new shape with properties {origin:{rXMask, rYMask}, size:{rWMask, rHMask}, draws shadow:false, draws stroke:pblnMaskStroke} at front of refGraphics
			set oHole to make new shape with properties {origin:{rXShape - 1, rYShape - 1}, size:{rWShape + 2, rHShape + 2}, draws shadow:false, draws stroke:false} at front of refGraphics
			set selection of oWin to {oMask, oHole}
			tell application id "OGfl" to activate
			tell application id "sevs" to click (my GetMenuItem("OGfl", {"Edit", "Shapes", "Subtract Shapes"}))
		end repeat
	end tell
	true
end tell

-- RETURNS A REFERENCE TO A CLICKABLE MENU ITEM
-- E.G. set mnuZoomFit to GetMenuItem("OGfl", {"View", "Zoom", "Zoom to Selection"})
on GetMenuItem(strAppCode, lstMenu)
	set lngChain to length of lstMenu
	if lngChain < 2 then return missing value
	
	tell application id "sevs"
		set lstApps to every application process where its creator type = strAppCode
		if length of lstApps < 1 then return missing value
		tell first item of lstApps
			-- GET THE TOP LEVEL MENU
			set strMenu to item 1 of lstMenu
			set oMenu to menu strMenu of menu bar item strMenu of menu bar 1
			
			-- TRAVEL DOWN THROUGH ANY SUB-MENUS
			repeat with i from 2 to (lngChain - 1)
				set strMenu to item i of lstMenu
				set oMenu to menu strMenu of menu item strMenu of oMenu
			end repeat
			
			-- AND RETURN THE FINAL MENU ITEM
			return menu item (item -1 of lstMenu) of oMenu
		end tell
	end tell
end GetMenuItem

on GUIEnabled()
	tell application id "sevs"
		if UI elements enabled then
			return true
		else
			activate
			display dialog "This script depends on enabling access for assistive devices in system preferences" buttons "OK" default button "OK" with title pTitle & "   " & pVer
			tell application id "sprf"
				activate
				set current pane to pane id "com.apple.preference.universalaccess"
			end tell
			return false
		end if
	end tell
end GUIEnabled
---
Last edited by RobTrew; 2012-04-04 at

11:30 AM

.. Reason: Amended code to slightly reduce the wide of the masking frame (ver .002)